This website displays the remarkable diaries which Edith Elizabeth Appleton wrote while nursing in Northern France from 1914 to 1919.
By late October 2007 we completed transcribing the handwritten diaries but we now have some further work to do in adding maps, links and further photographs.
Copyright © 2008. Dick Robinson, Piers and Jill Stainforth
All rights reserved.
Permission granted to reproduce for personal and educational use only. Commercial copying, hiring, lending is prohibited.
---
Index
---
Edith Elizabeth Appleton ('Edie' or 'E') was born on 9 June 1877 in Deal, Kent, 10th of 13 children. Ten year old Edie is on the left of the 1887 photo below. Her father was a Trinity Pilot.
Edie trained at St Bartholomew's Hospital between October 1900 and October 1904. She worked in private nursing between 1905 and 1908, as a Health Visitor in 1911/12 and, just prior to the war, as a District Nurse at Crediton in Devon. With WW1 looming, she volunteered for the Queen Alexandra's Military Nursing Service. She joined for duty at Fort Pitt, Chatham on 16 September 1914 and went to the front lines in France immediately as a nursing Sister, based first at Casualty Clearing Station No. 3 at Hazebrouck. 3 CCS was forced, by enemy action, to move to Poperinghe in April 1915 and then to Bailleul in May.
In November 1915 she transferred to No. 1 General Hospital at Étretat and there followed several other postings throughout the war including to Abbeville, to 45 CCS at Achiet-le-Grand and to hospitals at Le Tréport and Boulogne. After the armistice in November 1918 she joined 42 Ambulance Train and, in February 1919 was appointed to the staff of Dame Maud McCarthy, Matron in Chief, at Boulogne. She was demobilised on 22 December 1919.
Edie kept a handwritten diary throughout the war which details all the horrors, including the first use of poison gas, but also records how she spent her time off duty including a number of drawings and many accounts of what life was like for nurses. Amongst her decorations were the Military OBE, the Royal Red Cross and the Belgian Queen Elizabeth medal.
After the war she worked at Bedford College in London and in 1923 she and an elder sister bought 'Buddlebrook' in the Isle of Wight; this house became the home centre of the Appleton family. Living there, as well as Edie, were her sisters, Lil and Minnie, and her brother, Fred, vicar of Brightstone, Mottistone and Brook.
We think Edie spent a period looking after her elderly mother until her death in 1923 and there is then an exchange of letters between Edie and Maud McCarthy, with whom she had remained in touch, in which Dame Maud persuades her to join the Territorial Army Nursing Service. At first Edie declines, on 16 August 1923, with this delightful paragraph:
"Thank you for offering to have me in the Territorials. I am afraid I cannot join – much as I should like to for many things – and should love having you as my Chief again. One reason is that I am 46 and the other is that I really mean to give up nursing next year and to make my living at poultry keeping etc."
But clearly the Matron in Chief, who replied on 18 August, was persuasive and by 23 August Edie had agreed to join!
In 1926 she married Lt Cmdr John Bonsor Ledger. They had no children. Edie died in 1958.
This picture is dated 1887.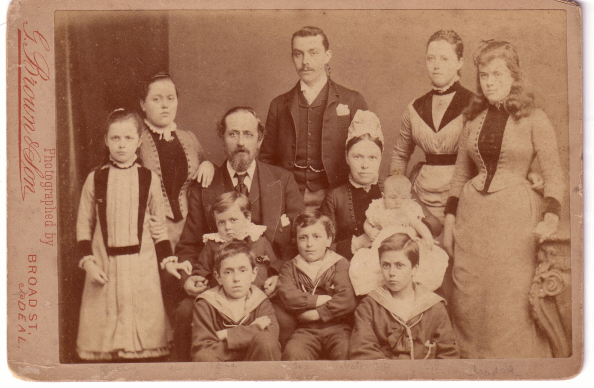 2. Introduction to the Diaries
The diaries are in 4 'volumes'. Volume one comprises 19 typed pages and the other three volumes are handwritten in three journals covering a total of over 400 pages. There are a number of delightful small sketches in volumes 2 to 4 as well as a few other items: press cuttings, three poems, a sheet of used blotting paper and some rough notes pages.
With short periods of leave back home, Edie was in France for the entire duration of the war but the first volume doesn't start until April 1915 (see notes below) and the final volume ends part way through 27 December 1918 with the back of that volume clearly missing. If anyone reading this website knows the location of the missing volumes - perhaps in a second-hand bookshop or even in a museum collection - we would dearly love to hear from you; see Contact Information below for details of periods missing.
We are greatly indebted to Sue Light whose website SCARLETFINDERS (http://scarletfinders.co.uk/) we discovered recently (March 2008) and which contains a wealth of information about British Military Nurses including Queen Alexandra's Imperial Military Nursing Service. Sue has passed on much vital information about Edie:
She signed her initial contract with 'His Majesty's Principal Secretary of State for the War Department' on 27 August 1914.

She joined at Fort Pitt, Chatham on 16 September 1914.

Service from 15 September 1914 to demobilisation on 22 December 1919.

Her service record shows her at a whole list of Casualty Clearing Stations, Hospitals, an Ambulance train and then on 20th February 1919 to Nurses' Hostel, Boulogne to join the staff of the Matron-in-Chief, Miss Maud McCarthy, who Edie mentions a number of times in her diaries.

Awarded Royal Red Cross (First Class) in 1917.

Awarded OBE 3rd June 1919.
---
3. Volume 1 - 5 April 1915 to 29 May 1915
---
4. Volume 2 - 25 July 1915 to 25 April 1916
This volume covers the period when Edie has returned from 10 days leave in late July 1915 until late April 1916. She is right behind the front lines at Casualty Clearing Station No. 3 near Ypres. In November 1915 she gets orders to move to General Hospital No. 1 at Étretat, between Le Havre and Fécamp. This hospital, established in December 1914, was one of several hospitals on the Normandy coast which were on the casualty evacuation chain. There are a number of mentions in Edie's diary that she longs to be back near the Front. However, she remains there and is still there in Volume 3 in November 1916.
---
5. Volume 3 - 8 May 1916 to 15 November 1916
Edie is still stationed at General Hospital No. 1 at Étretat. This volume begins with a number of little sketches and is a sustained account of everyday life at one of those hospitals on the French coast. Periods of what Edie calls slackness, with time for beautiful walks in the countryside and the occasional trip out in some sort of vehicle, are mixed with days and weeks of relentless pressure as convoy after convoy unloads wounded soldiers (including Germans) for treatment. Many are too badly wounded to survive for long.
---
6. Volume 4 - 21 June 1918 to 27 December 1918
---
This website was set up and is maintained by Dick Robinson (my grandfather, Sydney Appleton, was Edie's younger brother): dick@gardencottage.org.uk. My cousins, Jill and Piers Stainforth (we share Sydney as our grandfather), who live in Canada helped with turning the typed and handwritten diaries into text. We are advised and supervised by Anne Stainforth (Piers' and Jill's mother and Dick's aunt) who is 91, lives in Victoria, BC, and was Edie's favourite niece. Here are two photos (July 2007) of Anne reading the diaries in Canada.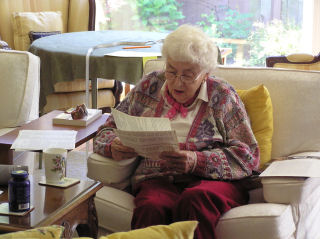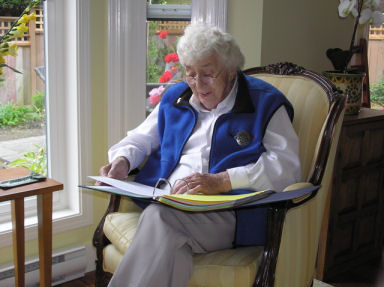 It has been an emotional rollercoaster for us transcribing Edie's diaries and we are immensely proud of her. How can our generation, born in the 1940s, ever really understand how it was for people like our great aunt, Edie? Well, perhaps this very personal account of one brave, resourceful and remarkable woman helps to enlighten us.
As we have already said, if by some great good fortune you are reading these diaries and can perhaps shed light on where the missing volumes got to, we would love to hear from you. The missing sections are:
---
Here's a delightful photo of many family members in and around a Morgan 3 wheeler. It must have been taken at Buddlebrook, Isle of Wight, in the early 1920s.

At the front, sitting on the running board and holding a chicken, is Edie. At the wheel is sister Madge and behind her with the beard is Madge's husband, Percy Ledger. Percy's daughter (by his first marriage), Mabel, wears the hat and to the right of her are Minnie and Lil. The car belonged to Mabel's second husband, Ian Kelway. The man with the hat is either Ian Kelway or our grandfather, Syd, and the two children are Syd's daughters, Liz and Anne.
And this one, taken in 1947, shows Piers Stainforth helping his great aunt Edie in the garden at Buddlebrook.

As he is proud to assert, "sixty years later, I am pleased to continue toiling in support of my Auntie"!
Speaking of toiling, here is Jill Stainforth at her home in Victoria, BC, Canada in August 2007 busy transcribing her great aunt Edie's diaries.

Note the pdf of a scanned page of the original handwritten diary (emailed by cousin Dick Robinson from England) hanging on the washing line!
---
9. Click here for further plans for the website.
---